The specialist in (HACCP) coating!
Sijtsma Noord delivers skilled, professional work. Holds safety, reliability and delivery within the agreed deadlines paramount. We offer a total package including: Inspection, recommendation, budgeting, execution and after-care. Sijtsma Noord is always on top of the last developments and, if applicable to your company, works according HACCP guidelines and standards. We use the latest methods, techniques and professional knowledge in our work activities. Sijtsma Noord is THE HACCP certified coating specialist with HACCP certification for your floors, walls and ceilings!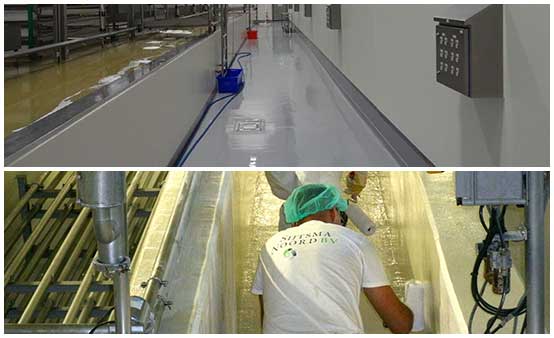 Synthetic floor, wall and ceiling coating
Because of the stringent requirements that are placed on the floor surfaces of production spaces, business spaces and other commercial environments, synthetic floor is the best solution.
For companies operating in the food industry a Hazard Analysis and Critical Control Point floor is the best solution. When choosing a HACCP floor from Sijtsma Noord you can be assured that you comply the HACCP regulations. The coating can be applied to walls, ceilings and steel structures. Further more we can apply the coating to tiled floors and walls.
The benefits of (HACCP) coating are:
Hygienic and anti slip
Seamless and pore-free
Resistant to impact and wear
Water-repellent and liquid-tight
Resistant to chemicals and acids
Easy to clean and maintain
Sijtsma Noord will be glade to provide you with a recommendation for the type of epoxy coating that suits best your walls, floors, ceilings and steel constructions.
Brine Baths
Renovating brine baths is a specialisation that requires great expertise.
For 35 years Sijtsma Noord has performed many works for various dairy and food companies like coating and renovating brine baths, floors and walls and has become an expert. We constantly strive to be the best by innovating and developing new ideas. In our field we take responsibility to offer you the best service and expertise.
Sijtsma Noord provides added value by offering concrete solutions. A concrete solution offered only by Sijtsma Noord in this specialized work is that we can inspect and renovate your brine bath during the production process. This means little or no loss of sales due to production stagnation.
The added value of Sijtsma Noord:
VCA** and HACCP certified craftsmanship
Work is being done according to the HACCP guidelines
Inspection of brine bath during the production process
Renovations can be done during the production process
We don't think in problems, we think in solutions. A problem is a question to us and for all questions are answers. It doesn't matter if the question is big, complex, little or simple, they're all equally interesting to us. We think along with you and always come up with a custom fit and workable solution.
Certification
Sijtsma Noord is a VCA** and HACCP certified company. Our suppliers certified us as their official application company. We work with high-value, modern equipment. Working carefully and properly is important to us. With every project we do our coating work as well and as quickly as possible. Constantly we develop new technologies. Our personnel are regularly trained in product knowledge and in the newest application techniques regarding (HACCP) coating.
References
Sijtsma Noord is ruim 35 jaar als coatingspecialist actief in binnen- en buitenland. Voor verschillende bedrijven in de zuivel- en voedingsmiddelenindustrie hebben we diverse werkzaamheden verricht waaronder het coaten van vloeren, wanden en plafonds en het maken, coaten en renoveren van pekelbaden.
Friesland Campina, several locations in Holland
Ausnutria Hyproca, Heerenveen, Holland
Cono Cheesemakers, Westbeemster, Holland
Fromunion, Passendale, Belgium
Latterie Vincente, SCA, Italy
Humana Milchunion EG, Germany
DOC Cheese, Hoogeveen, Holland
Fonterra, Heerenveen, Holland
A-Ware, Heerenveen, Holland
Altmark-Käserei Uelzena GmbH., Bismark, Germany
Goldsteig Käsereien Bayerwald GmbH., Cham, Germany